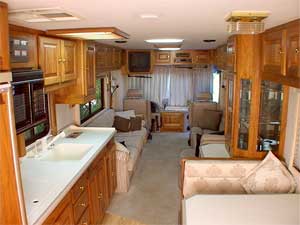 Our executive high-line motor coach
is built by the #1 coach company in the world, Monaco. Our 40 foot Crown Royal Signature Series® represents the ultimate in luxury motor coach design. Whether used as a production bus, for your starring cast, or as A Red Mobile Support Unit, Highway Definition has a package designed with your needs in mind. Stationed in Florida, but we can travel anywhere is the U.S. Contact us for rates.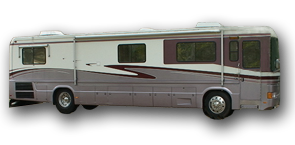 The 40-foot luxury motor coach comes complete with amenities such as a 12.5 kW diesel generator allowing for editing in remote locations, two air conditioners, washer/dryer, ice machine, large kitchen, elegant bathroom, and master bedroom with television and stereo. The interior is elegantly designed with wood floors, leather upholstery, a garden tub, walnut cabinetry and attention to detail. The coach is also equipped with an aquaheat system that allows the bus to travel and work in winter conditions. It can just be a nice place to take a break to warm up-cool down, watch TV, take a nap or shower. Highway Definition is located in Florida and can travel anywhere in the US or Canada. Please contact us for more information.